Team Info

 Established        1979
 Final Season       2003
 Home Venue         AIS Arena, Canberra
 Championships      1983, 1984, 1988

Rosters

 2002-03 Canberra Roster

Retired Jerseys

 unknown

All-Stars

 Emery Atkinson 1989
 Herb McEachin 1990
 John Stelzer 1990
 Jason Reese 1992
 Jervaughn Scales 1995
 Phil Smyth 1989, 1992
 Ray Borner 1995
 Robert Rose 1996, 1997
 Simon Dwight 1996
 Willie Simmons 1988

Club History
Notable Players

 Robert Rose
 Simon Dwight
 Willie Simmons
 Phil Smyth
 Cal Bruton
 George Banks
 Simon Cottrell
 Wade Kirchmeyer
 C.J Bruton
 James Crawford
 Joe Hurst
 Randy Rutherford
 Melvin Thomas
 Ray Borner
 Herb Mceachin
 Darnell Mee

The Cannons were one of the original ten NBL clubs, competing in the league's very first season in 1979. They reached the championship game with a 13-5 record, but fell at the final hurdle, losing to the St Kilda Saints 94-93 in the final.
Canberra failed to make the playoffs over the next few seasons, but in 1983 they won their first NBL championship, downing the West Adelaide Bearcats 75-73 in the Grand Final. Guard Phil Smyth led the NBL in steals and assists.
The Cannons repeated as champions in 1984, this time beating the Brisbane Bullets 84-82 in the big game. Smyth again had a big season, being named to the All-NBL First Team.
Canberra made the playoffs for the next three seasons but championship glory eluded them until 1988, when they beat the North Melbourne Giants 2-1 in a best-of-three championship series. Smyth again was named to the All-NBL First Team after leading the league in three-point percentage, free-throw percentage and steals, and was also named Best Defensive Player. North Melbourne exacted their revenge in 1989, beating the Cannons 2-0 in the championship series.
The Cannons failed to make the playoffs again until 1992, when they were eliminated in the first round by the eventual champions, the South East Melbourne Magic. They reached the playoffs in 1996 making the semi finals before being eliminated by the Melbourne Tigers 2-1. They again made the finals in 1997 but were eliminated in the first round 2-1 by the North Melbourne Giants.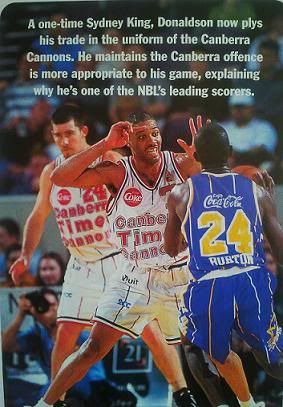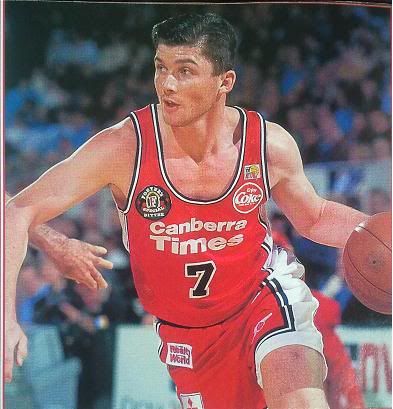 Financial problems dogged the club in the late 1990s, and the team finally succumbed to its money woes in December of 2002. The club managed to play all its remaining games from the 2002/03 NBL season, but were unable to hold on to their star players, including C.J. Bruton, the son of then-coach Cal Bruton, or any imports. Canberra finished with an 11-19 record, and the team were bought by a consortium that moved the team to Newcastle.[1]
On the 23 October 2009 it was announced that the Canberra Cannons would be re-formed out of the Canberra Gunners and play in the Australian SEABL.
The Cannons have always been considered as the team of the 80s, as it won three championships and was runner-up once more. The Brisbane Bullets could also claim this title after appearing in four finals in a row (excluding the 1990 loss to Perth), but only winning two.
Recent Events
In April 2013 the Townsville Crocs went through financial issues and tried to hand their license back to the league. Rumours began circulating about the Cannons re-entering the league. But Basketball ACT came out and said that there are no plans for the Cannons to join the NBL in the near future. The press release also said that Basketball ACT believe that the city could not handle another major sporting team.
---
Page locked (last edited April 21, 2013) [info] [diff])
FindPage by browsing or searching
---
5 best incoming links: Adelaide 36ers (4017), Sydney Kings (3784), Brisbane Bullets (3539), Newcastle Falcons (1356), Melvin Thomas (1255)
5 best outgoing links: Brisbane Bullets (3539), Townsville Crocs (3137), South East Melbourne Magic (2308), North Melbourne Giants (1959), Melvin Thomas (1255)
5 most popular nearby: FrontPage (147109), RecentChanges (76763), Brisbane Bullets (66571), 2002-03 Canberra Roster (37360), Townsville Crocs (16131)