Team Info

 Established      1982
 Last Season      1996 (now plays in the SEABL)
 Home Venue       Geelong Arena, Geelong
 Championships    None

Retired Jerseys

 None

Noteable Players

 James Crawford
 Ray Owes
 Shane Heal
 Cal Bruton
 John Dorge
 Simon Kerle
 Terry Dozier
 Bobby Locke
 Wayne McDaniel

Club History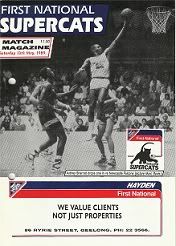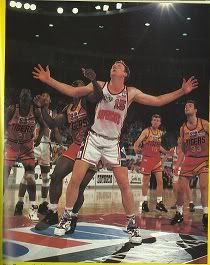 The Geelong Cats were founded as part of the Victorian Basketball Association in 1978. After achieving championship success in that league in 1981, the club was pitted against four NBL clubs (the West Adelaide Bearcats, the St. Kilda Saints, Nunawading Spectres and Launceston Casino City) over two tournaments. After defeating all of these NBL teams the Supercats were accepted into the NBL for the 1982 season. With star players such as Cal Bruton and James Crawford on the roster, the Cats recorded 13 straight victories and finished second overall at the end of the regular season with 21 wins and 7 losses. Remarkably, the Cats also competed in the Grand Final in their first season. However, they lost to the West Adelaide Bearcats 80-74.
The following several seasons continued to be successful for the Cats, but they failed to reach the Grand Final again. By 1986, star players such as Bruton and Crawford had moved on and the club was sliding down the NBL ladder.
In 1988, the Cats changed their name to the Supercats and continue under that moniker to this day. However, the 1988 season saw the Supercats lose all 24 games that season. Star recruits, such as Shane Heal, helped the Supercats recover from such depths in the early '90s, but eventually the Supercats dropped to last on the NBL ladder in 1992 and failed to regain a position in the finals in their remaining years.
In 1996, the Supercats were one of three teams (the Gold Coast Rollers and the Hobart Devils being the other two) that returned their NBL licences to the league due to changed entry criteria. While not the first time teams had folded in the league, the sudden departure of the Supercats, Rollers and Devils signified that the NBL's successful era (between late 1980s and early 1990s) was truly over.
Also see 1996 NBL Season for more info on the Geelong Supercats leaving the NBL
Old Geelong Supercats Articles
---
Page locked (last edited January 2, 2013) [info] [diff])
FindPage by browsing or searching
---
5 best incoming links: Brisbane Bullets (3539), Shane Heal (1563), Cal Bruton (1066), Hobart Devils (1053), Derek Rucker (940)
5 best outgoing links: Shane Heal (1563), Cal Bruton (1066), Hobart Devils (1053), Gold Coast Rollers (855), James Crawford (821)
5 most popular nearby: FrontPage (147110), RecentChanges (76763), Brisbane Bullets (66571), Launceston Casino City (46061), West Adelaide Bearcats (2158)