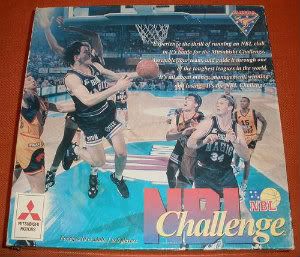 The NBL Challenge was a board game released in 1994 by Woody Productions. Up to 6 players could play the game. This game is no longer in circulation and considered rare.
Details
The game is broken down into two phases: the pre-season and the season itself. In the pre-season, players move around the game board, buying players and collecting sponsors. Once the teams have filled their roster, the regular season begins. Games are played by simulating the results with the games spinner, with your players effecting the outcome, while other in season events, such as player trades, occurring between games. Once every game from the regular season has been simulated, the playoffs begin, and the NBL Champion is determined.
The game comes with over 100 player cards from the 1994 NBL season.
From the game box:
Take the reins of your favourite club and through clever and daring team management take them all the way to the top. Build the team of your dreams, see how they perform, analyse game statistics and make those tough decisions to win you the Mitsubishi Challenge Trophy.
It takes skill, strategy and not a little luck to keep a professional basketball team viable. You'll need to keep an eye on the club's bank balance as well as ensuring your players are kept trained and happy. Go after those lucrative sponsorship deals, win games and don't forget your coach - he might just get a better offer from another team! Above all else, keep an eye on the rival teams - there can only be one winner in NBL CHALLENGE. [1]

  

---
Page locked (last edited September 18, 2012) [info] [diff])
FindPage by browsing or searching
---
5 best incoming links: FrontPage (7), RecentChanges (6)
5 best outgoing links:
5 most popular nearby: FrontPage (147110), RecentChanges (76763)