Team Info

 Established      1979
 Final Season     1998/99
 Home Venue       Newcastle Entertainment Centre, Newcastle
 Championships    None
 Other Names      Hunter Pirates

Retired Jerseys

 #5 Michael Johnson

Club History
Noteable Players

 Tonny Jensen
 Ben Pepper
 Michael Johnson
 Ben Melmeth
 Butch Hays
 Dave Ankeney
 Jim Bateman
 Scott Horrell
 David Van Dyke
 Wayne Mcdaniel
 Jerry Everett
 Terry Dozier
 Troy Truvillion
 George Morrow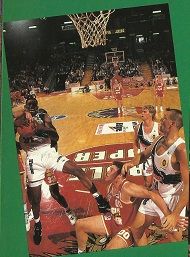 Newcastle Falcons were a team that played in Newcastle, in the National Basketball League. The team played in the NBL's inaugural season in 1979, and left the league in the late 1990s, after new owners based in Albury couldn't resolve the club's ongoing financial problems.
The Falcons hold a special place in the history of league. The club was responsible for the formation of the league, and were the organisers. The other clubs had to pay a fee of around $300 to the Falcons to participate in that first season. The city is regarded as the birth place of the NBL.
The club's original colours were green and white, being the city's colours, but the club soon changed to black and red, and to red and blue, after the Newcastle Knights' admission to the New South Wales Rugby League. All the national league clubs in Newcastle took on red and blue as their colours at some stage in their existence.
In 1992, the club moved from its original home stadium at the Broadmeadow Basketball Stadium to the new Newcastle Entertainment Centre. The club's downfall began in the mid-1990s when problems with sponsor Topper befell them and the Newcastle Breakers. Even with the support of new sponsor Energy Australia and new owners, the club couldn't get itself out of trouble, and left the league in the late 1990s.
The city had no NBL team until the new owners of the Canberra Cannons moved to Newcastle and established the Hunter Pirates in 2003.
Return of the Falcons
There is a chance that the falcons will return to the National Basketball League under the ownership of Nathan Tinkler in the future, maybe in the 2012 and 2013 season. No word on this team will be known as the Falcons or a new name.
---
Page locked (last edited January 3, 2013) [info] [diff])
FindPage by browsing or searching
---
5 best incoming links: Adelaide 36ers (4017), Townsville Crocs (3137), Derek Rucker (940), Butch Hays (756), NBL Best Defensive Player (654)
5 best outgoing links: Canberra Cannons (2167), Butch Hays (756), Ben Pepper (608), Hunter Pirates (542), Terry Dozier (518)
5 most popular nearby: FrontPage (147109), RecentChanges (76763), Townsville Crocs (16131), Adelaide 36ers (8495), Dave Simmons (3424)