Player Info

 Position      Guard
 Height        6Ft 4
 Years Active  2008 - 2014
 Championships None
 Teams         Brisbane Bullets, Wollongong Hawks
 Numbers       #13 (Wol), #13 (Bri)

Awards

 None

Career High

 Points   32, 28th February 2014 V 36ers
 Assists   9, Multiple times
 Rebounds 10, 21st February 2014 V Breakers
 Steals    5, 5th January 2013 V Breakers
 Blocks    2, 14th November 2010 V 36ers

League Leaders

 Top 5 APG 2012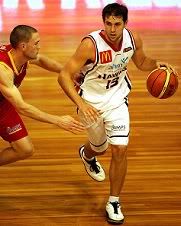 History
Stats

 Year GM FGM-A     FG%  3PM-A   3P%  FTM-A   FT%  OFF DEF TOT AST STL BLK TO  PF  PTS  Team
 2014 30 96 - 231  41.6 27 - 81 33.3 52 - 67 77.6 0.9 2.4 3.5 3.0 1.1 0.2 1.5 2.4 9.0  Hawks
 2013 15 66 - 129  51.2 18 - 41	43.9 27 - 35 77.1 0.6 2.2 2.8 3.3 1.1 0.2 1.9 1.9 11.8 Hawks
 2012 28 94 - 203  46.3 23 - 69 33.3 64 - 88 72.7 0.5 2.0 2.4 3.6 0.7 0.1 2.6 1.9 9.8  Hawks
 2011 15 36 - 87   41.4  9 - 24 37.5 14 - 16 87.5 0.7 1.7 2.5 2.1 1.1 0.0 1.7 1.9 6.3  Hawks
 2010 34 90 - 223  40.4 29 - 80 36.3 57 - 78 73.1 0.6 1.9 2.5 3.1 0.8 0.2 2.2 1.9 7.8  Hawks
 2009 30 45 - 93   48.4 12 - 28 42.9 20 - 31 64.5 0.5 1.3 1.8 1.8 0.9 0.2 1.3 1.7 4.1  Hawks
 2008 16 7 - 26    26.9  2 - 10 20.0  1 - 3  33.3 0.3 0.2 0.4 0.4 0.3 0.1 0.4 0.7 1.1  Bullets

Martin signed with the Brisbane Bullets in their last season the NBL. After the Bullets folded in 2008 Martin signed with the Wollongong Hawks for the 2008-09 season. But Martin did not come into his own until the 2009-10 season, after import Tywain McKee went down with a season ending injury, Martin lead the Hawks all the way to the grand final, where they would lose to the Perth Wildcats.
2010-11 Martin re-signed with the Hawks to play a back up role to Gary Ervin. But injuries limited his court time and after a red hot start by the Hawks, other various team injuries stopped them from making the playoffs. During the off season Ervin signed overseas, Gordie Mcleod trusted Martin to run the team for the 2011-12 season. The Hawks got off to a slow start and ended up finishing second last. But Martin bounced back from a injury riddled 2011 season and set career highs in almost every statistical category at the time.
Before the start of the 2012-13 season the Hawks signed Adris Deleon and Lance Hurdle. But Mcleod kept Martin as the teams starting point guard and it paid off. Wollongong started the season 7-1 thanks to the play of Martin who came into his own, becoming perhaps the best Australian point guard in the league, setting career highs in points, field goal percentage and three point percentage. But on January 11th 2013 in a game against the Cairns Taipans Martin went up for a layup and tore his ACL. It was announced that he would miss the remainder of the season. Just the game before Martin had set a career high in points against the Perth Wildcats with 28.
Martin's production dropped a little in 2013-14 although the Hawks returned to the playoffs where they lost to the Perth Wildcats. At season's end Martin decided to leave Australia to try and get a contract overseas.
---
Page locked (last edited July 25, 2014) [info] [diff])
FindPage by browsing or searching
---
5 best incoming links: Wollongong Hawks (4353), Lance Hurdle (697), Adris Deleon (558), 2010-11 Wollongong Roster (309), 2012-13 Wollongong Roster (309)
5 best outgoing links: Perth Wildcats (4431), Wollongong Hawks (4353), Brisbane Bullets (3539), Cairns Taipans (2097), Gary Ervin (1062)
5 most popular nearby: RecentChanges (77159), Brisbane Bullets (66998), Wollongong Hawks (15553), Perth Wildcats (11882), 2010-11 Wollongong Roster (10347)