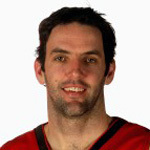 Player Info

 Position      Guard/Forward
 Height        6 ft 6 in
 Years Active  1994 - 2010
 Championships 1996, 2007
 Teams         Melbourne Tigers, South East Melbourne Magic, Townsville Crocodiles, West Sydney Razorbacks, Brisbane Bullets

Awards

 NBL Rookie of the Year, 1994
 NBL Best Defensive Player, 2007
 NBL MVP, 2007
 Grand Final MVP, 2007

League Leaders

 Top 5 BPG 2003 Top 5 SPG 2000 Top 5 RPG 2003 Top 5 APG 2005
 Top 5 BPG 2004 Top 5 SPG 2007
 Top 5 BPG 2007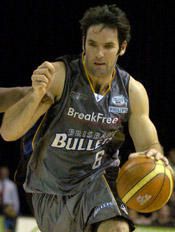 History
Stats

 Year Pl A   M   FG% A   M  3P% FL  AS  BL ST TO  OF DE  TOT A   M   FT% TOT PPG Teams
 1994 23 86  51  59  3   1  33  40  57  20 30 25  15 51  66  52  24  46  127 6   Magic
 1995 23 218 129 59  5   2  40  69  100 31 44 55  54 99  153 43  25  58  285 12  Magic
 1996 26 257 133 52  38  11 29  74  102 24 41 55  67 107 174 71  39  55  316 12  Magic
 1997 30 338 176 52  32  7  22  78  93  26 45 77  71 127 198 147 106 72  465 16  Magic
 1998 29 301 146 49  51  15 29  77  158 17 46 60  74 146 220 113 68  60  375 13  Magic
 1999 26 397 176 44  58  18 31  68  113 26 52 49  77 164 241 96  59  61  429 17  Crocs
 2000 28 374 202 54  26  9  35  79  137 33 53 60  70 168 238 125 76  61  489 17  Crocs
 2001 16 209 102 49  40  17 43  43  81  17 24 31  52 104 156 96  58  60  279 17  Crocs
 2002 30 385 200 52  63  23 37  106 117 48 43 86  75 218 293 101 50  50  473 16  Razorbacks
 2003 32 499 245 49  108 40 37  86  158 44 53 87  81 212 293 129 67  52  597 19  Razorbacks
 2004 32 426 194 46  103 31 30  110 188 38 53 102 68 193 261 89  44  49  463 14  Razorbacks
 2005 32 351 186 53  70  21 30  85  144 45 47 74  78 231 309 111 48  43  441 14  Bullets
 2006 33 477 268 56  118 56 47  86  143 47 58 73  73 229 302 99  57  58  649 20  Bullets
 2007 15 180 91  51  39  13 33  45  62  8  19 31  28 84  112 32  15  47  210 14  Bullets
 2008 13 96  47  49  20  7  35  32  56  10 24 28  22 61  83  23  14  61  115 9   Tigers
 2009 27 175 77  44  56  19 34  55  46  11 19 29  55 68  123 61  44  72  217 8   Tigers

Mackinnon's career began in 1994 with the South East Melbourne Magic when he won NBL Rookie of the Year. Two seasons later, Mackinnon went to become one of the dominant players for South East Melbourne and they won the NBL championship in 1996.
After South East Melbourne folded, Mackinnon was signed by the Townsville Crocodiles at the beginning of the 1999 season. And it was not long before Townsville became serious title contenders. In 2001, Townsville made the Grand Final, however Mackinnon missed the series due to injury. Once his contract ended in Townsville, Mackinnon elected to sign with the West Sydney Razorbacks where he become their captain and put up career best numbers in his first season. During the following season Mackinnon led West Sydney into the NBL Grand Final series against cross-town rivals the Sydney Kings. Sydney won the series 3-2.
Keen to win another NBL championship, Mackinnon decided not to sign with West Sydney and instead signed with the re-emerging Brisbane Bullets. And although Brisbane somewhat struggled during the 2006 season, Mackinnon demonstrated that he is still a dominant force in the NBL by putting up career best numbers during the 2007 season to lead the Bullets to their first championship in 20 years. During the off-season there had been much speculation concerning whether or not Sam would be signed as a free agent in the NBA. The offer of playing in the NBA never came and Sam re-signed with the Bullets.
He was the first player to win the MVP, Best Defensive Player and Grand Final MVP in league history in the same season. Unfortunately, knee injuries sidelined him for most of the 2007-08 season.
Mackinnon was a regular member of the Boomers squad, that saw him compete in the 1996, 2000 and 2004 Olympic Games. Perhaps his greatest achievement whilst playing for Australia was winning a gold medal during the 2006 Commonwealth Games. Mackinnon was also named captain of the Boomers squad for the more recent Olympic Qualifying series against New Zealand.
On 8 July 2008, the Melbourne Tigers had announced they have signed Mackinnon to a three year deal. But it did not last as Mackinnon had to retire eary 2010 due to Mackinnon suffering a recurrence of blood clots on the lungs. He was 33 at the time.
Sam Mackinnon Youtube

 http://youtu.be/3O2XW8zbGpU
 http://www.youtube.com/watch?v=5i5KV0eeajI
 http://www.youtube.com/watch?v=A3hO41txfxs

---
of this page (last edited December 13, 2012) [info] [diff])
FindPage by browsing or searching
---
5 best incoming links: Melbourne Tigers (4345), Brisbane Bullets (3539), Townsville Crocs (3137), All NBL First Team (2396), South East Melbourne Magic (2308)
5 best outgoing links: Melbourne Tigers (4345), Sydney Kings (3784), Brisbane Bullets (3539), South East Melbourne Magic (2308), West Sydney Razorbacks (1432)
5 most popular nearby: RecentChanges (77132), Brisbane Bullets (66993), 2005-06 Brisbane Roster (47011), Townsville Crocs (16230), Melbourne Tigers (6897)