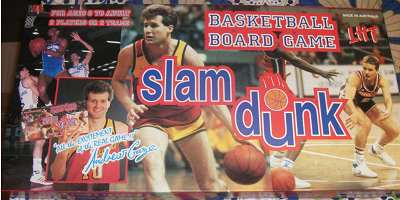 Slam Dunk was released in 1988 by Cravenhurst. You could play up to 2 players. This game is no longer in circulation and it is believed to have sold poorly when it was originally released due to the video game craze of the 90s.
From the game box: For 2 or more players (two teams). Ages 8 to adult.
There isn't much time left in the Slam Dunk Grand Final, & the opposing team is one point ahead.
It's your turn but the team cards show your player with the ball has the worst shooting range in the team. Will you turn over a game card & try to pass to your best shooter or will you take a chance with the dice on a fast break. Only you can decide.
The Slam Dunk Board Game has been created in Australia by professional basketball players. It is a game of strategy, chance & trivia, & reproduces the entire basketball contest with passing, two & three point shots, turnovers, rebounds & fouls.
As Andrew Gaze says the Slam Dunk Board Game has all the excitement sic? & action of real Basketball.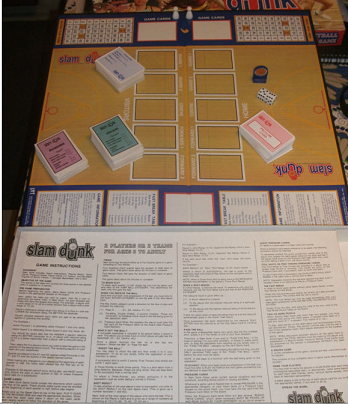 ---
Page locked (last edited March 7, 2013) [info] [diff])
FindPage by browsing or searching
---
5 best incoming links: FrontPage (7), RecentChanges (6)
5 best outgoing links: sic (2)
5 most popular nearby: FrontPage (147110), RecentChanges (76763), sic (311)