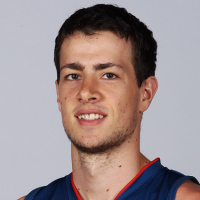 Player Info

 Position      Guard
 Height        6ft 1
 Years Active  2011 - 2013, 2015 - Current
 Championships None
 Teams         Adelaide 36ers
 Numbers       #6 (Ade)

Awards

 None

Career High

 Points    12, 4th February 2011 V Kings
 Rebounds   4, 15th March 2013 V Taipans
 Assists    3, 20th January 2013 V Breakers
 Steals     2, 13th January 2013 V Kings
 Blocks     1, Multiple times

History
Stats

 Year GM FGM-A   FG%  3PM-A  3P%  FTM-A   FT%  OFF DEF TOT AST STL BLK TO  PF  PTS Team
 2013 17 16 - 44 36.4 3 - 10 30.0 9 - 14  64.3 0.5 0.6 1.1 0.9 0.4 0.1 0.3 1.2 2.6 36ers
 2012 12 7 - 16	 43.8 2 - 6  33.3 5 - 11  45.5 0.3 0.4 0.7 0.6 0.3 0.0 0.8 0.7 1.8 36ers
 2011 13 7 - 20	 35.0 1 - 9  11.1 14 - 15 93.3 0.2 0.4 0.6 0.5 0.2 0.0 0.4 0.6 2.2 36ers

Tom made his NBL debut on 31 December 2010 against the Wollongong Hawks where he scored 2 points in just over a minute of playing time. Daly was recruited from local Adelaide club the Sturt Sabres where he helped the Sabres to the 2010 Central Australian Basketball League championship, scoring 26 points in the final. He was also the Frank Angove Medalist in 2010 which is awarded to best U/23 player in CABL.
Daly was also a Gold Medalist for Australia in the 2009 FIBA Oceania tournament played in Spain. Tom played 13 NBL games for Adelaide during the 2010-11 NBL season after being promoted from the teams development squad due to injuries and averaged 2.2 points, 0.5 rebounds, 0.5 assists and 8.35 minutes per game. Due to injuries in the 36ers squad, Daly saw increased playing time over the season and impressed enough to be seen as one of the NBL's players of the future.
At the end of the 2011-12 season the 36ers told Daly that there would be little playing time for him during 2012-13. Daly tried out for teams such as the Wollongong Hawks during the off season but decided to re-sign with the 36ers for the 2012-13 season. Daly had his best season of his young NBL career in 2012-13. With career highs in points, blocks, steals, assists and rebounds.
Daly could not secure a contract for the 2013-14 season but still trained with the 36ers. In August 2014 The 36ers announced that Daly had been re-signed by the club for the new season.
---
Page locked (last edited September 21, 2014) [info] [diff])
FindPage by browsing or searching
---
5 best incoming links: 2010-11 Adelaide Roster (282), 2011-12 Adelaide Roster (282), 2012-13 Adelaide Roster (282), 2014-15 Adelaide Roster (282), RecentChanges (6)
5 best outgoing links: Wollongong Hawks (4353), Adelaide 36ers (4017)
5 most popular nearby: RecentChanges (77159), Wollongong Hawks (15553), Adelaide 36ers (8584), 2010-11 Adelaide Roster (4329), 2011-12 Adelaide Roster (739)